Acne scarring can be one of the most difficult and stubborn skin concerns to treat. With most adults, gone are the days of teenage acne breakouts, but the scars from that period sometimes last for years. So what can we do about it?
The good news is, there are many aesthetic treatments that may improve acne scars.
In this article, we will discuss one of the most popular options offered at Aging Young Aesthetics: Microneedling.
Keep reading to learn more about how microneedling can help treat acne scars as well as a variety of other skin concerns!
What is Microneedling?
Microneedling is a nonsurgical procedure that utilizes tiny needles to penetrate the skin's surface, causing micro-injuries which jumpstart your body's natural wound-healing process. The result is clearer skin, a reduction in fine lines and acne scars, and an increase in collagen production.
Two options offered at Aging Young that provide the best results are RF (Radio-Frequency) Microneedling and the Microneedling SkinPen®:
RF Microneedling – combines the normal microneedling process with the added benefits of radiofrequency energy. Radiofrequency microneedling improves the skin's tone and texture while minimizing the appearance of fine lines and wrinkles.
Skinpen® – is a microneedling device that causes controlled micro-injuries, which trigger the release of cytokines and growth factors in the body that lead to an increase of collagen and elastin production.
How Microneedling Improves the Appearance of Acne Scars
Aside from the multitude of benefits microneedling treatments provide, they are especially helpful at improving acne scars. Here are 5 specific ways microneedling is particularly beneficial for patients dealing with acne scars:
Makes Use of the Body's Natural Healing Processes – The tiny skin pricks caused by microneedles create micro-injuries, which jumpstart the body's healing processes. This makes it a safe treatment that often provides real and lasting results.

Increased Collagen Production – One of the benefits from the body's natural healing process is a corresponding increase in collagen production. Collagen production improves skin's tone and texture, thus filling in scars and helping to fade hyperpigmentation or dark spots.

Restored Elasticity and Volume – Along with an increase in collagen production, microneedling can restore and boost the skin's elasticity and volume. These all contribute to a reduction in the  appearance of acne scars, fine lines, and wrinkles.

Rejuvenates Skin Texture – Following a microneedling treatment, you may experience a noticeable improvement in your overall skin tone and texture. The rejuvenation process thus results in a fresh and clear complexion.

Help Boost Results from Other Treatments – You may also consider combining microneedling with other treatments for even more dramatic results. Some examples include Radio-Frequency Microneedling or Microneedling with Exosome Therapy.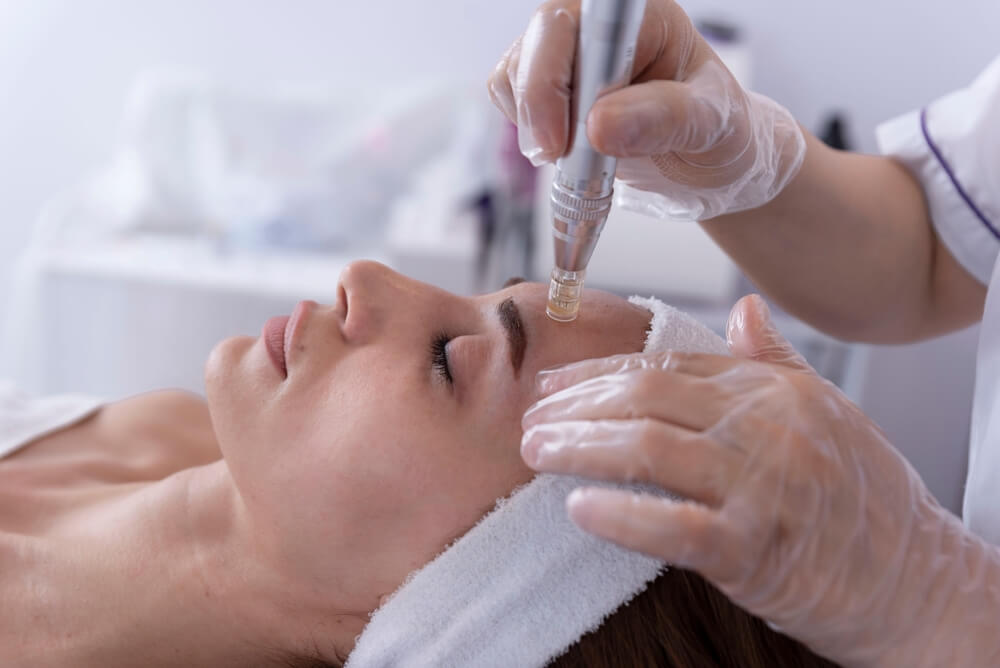 Aging Young Microneedling
If you're looking to lessen the appearance of acne scars and improve your overall skin tone and complexion, then consider a visit to Aging Young Aesthetics!
Our providers at our Duluth, MN location have experience with many different aesthetic treatments and are knowledgeable in what truly works.
Aging Young Aesthetics is focused on total wellness, therefore we provide a variety of services aside from microneedling. During your one-on-one consultation, your provider will work with you to come up with a treatment plan and help you achieve all of your skin goals.
Book your appointment today!
(218) 481-1800
info@agingyoungsolutions.com