NONSURGICAL FACELIFT OPTION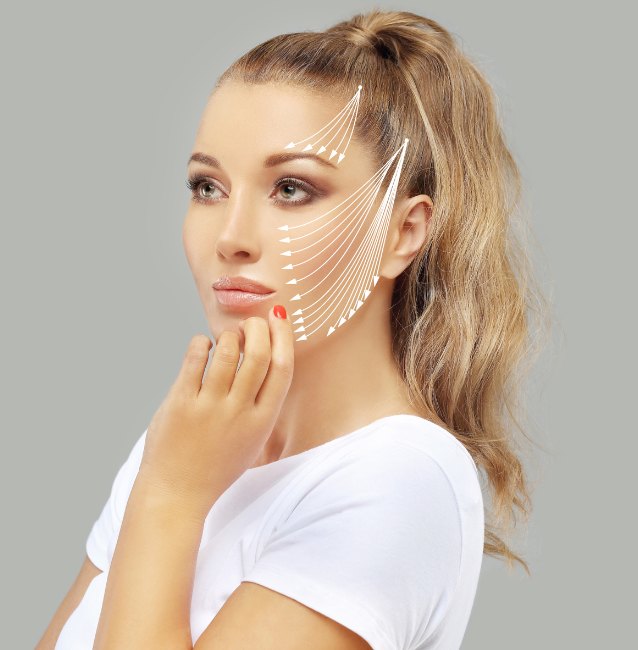 Nonsurgical Facelift Option
LightStim Pro Panel®
LightStim® therapy is a highly effective and affordable technology with proven results. The light waves are free of harmful ultraviolet rays and noticeably rejuvenate the skin with no negative side effects. LightStim® can firm skin, reduce pore size, soften skin texture, and improve skin elasticity. Improvements in fine lines and wrinkles can be observed in as little as eight weeks. It calms acne-irritated skin and destroys bacteria to prevent future breakouts and restore clear, healthy skin. With this non-surgical, easy-to-use treatment, patients can experience the regenerative power of light and achieve noticeably smoother, clearer skin.
During the therapy, LightStim® delivers light energy wavelengths into the skin to improve skin health. Depending on your needs, different light color wavelengths will energize your cells and stimulate a biological response in your body so that it builds new proteins and regenerates healthy cells.
Areas that can be treated include:
Contact Aging Young Aesthetics in Duluth, MN, for any questions or concerns you may have about any of our facial treatments. You can give us a call at 218-481-1800, or if you are ready to book your facial treatment appointment, you can use our online booking system to schedule a time that is convenient for you. 
Non Surgical Facelift FAQs
When your glands produce an excess oil, the pores become clogged, creating an environment in which bacteria can flourish. Pimples are formed on the skin by the excess bacteria. The blue light of the LightStim device kills these bacteria, reducing inflammation and redness. The device is safe for all skin tones and skin types.
As you age, the body produces less collagen, the natural "filler" that lies beneath your skin and helps it retain its plump, smooth appearance. As the volume of collagen decreases over time, wrinkles become more obvious and skin sags. Light emitted by the LightStim device for wrinkles penetrates the top layer of skin and stimulates the production of more collagen. It can also help the skin regain moisture and elasticity, lighten sunspots, age spots or other discolorations and reduce pore size.
Areas that can be treated include:
Forehead

Cheeks

Laugh lines

Crow's feet

Lips

Jawline
 
Clinical studies of the use of LightStim found that 100 percent of patients reported that they had observed wrinkle reduction and improvements in skin tone and texture after eight weeks.
Home care is essential to obtaining the most benefit from LightStim treatments. We offer various facials and a variety of skincare products work great in combination with LightStim. With consistency in your skincare regimen, LightStim can enhance your skin's health and appearance for long-term benefits. We offer home skincare products, including the hand-held LightStim devices that are tailored to your specific skin care needs.
Venus Versa™ is a non-surgical facelift treatment we proudly offer at Duluth MedSpa, providing transformative results for our clients. This advanced multi-platform technology utilizes Intense Pulsed Light (IPL), Multi-Polar Radio Frequency, and Pulsed Electromagnetic Fields to effectively tighten sagging skin, reduce wrinkles, and restore a youthful appearance. With its precise and gentle application, Venus Versa™ treats the root cause of aging signs by promoting collagen and elastin regeneration. 
This non-invasive procedure requires no downtime and provides noticeable results in just a few sessions. Ideal for those seeking a natural-looking facelift without undergoing surgery, Venus Versa™ is the perfect solution to rejuvenate your skin and restore your confidence.
Rediscover your radiant, youthful self with Venus Versa™ at Duluth MedSpa – where we redefine aesthetics with innovative, non-invasive solutions for a new you.